Don't have time to make it into a branch? Our live tellers can help you via video chat from the convenience of your own home, car or anywhere you are! Apply for loans, new accounts, sign forms and do many of the other things you would normally do in person, directly from your mobile device or desktop. See you soon!
If you have more questions, click here for our full FAQ!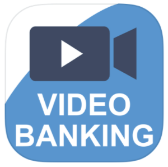 Simply click the Video Banking icon from anywhere on our website to get started, or download the app from the links below.